It was a rough week. The end of the school year, with two weeks to go, was kicking my butt. I was still recovering from the retirement party I threw and my car battery was failing, just two months past the 10 year warranty. So I spent the week on the phone with Toyota to see what they could do. They gave me a good deduction in cost but with everything the car needed, labor and the cost of the battery, it was still a good chunk of money. But it needed to get done.
I had only run a mile all week and looked forward to this long run. I took it nice and slow. I love Will Rogers State Historic Park. It's so beautiful and serene.
It was foggy and drizzly the entire run.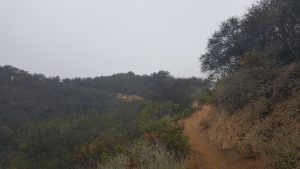 The trail is all single track. Single track is still so hard for me so I ran and power hiked at my pace. I couldn't keep up with the group but I knew they were out there.
This bridge is the best thing on the trail!
After the bridge, there's a fun climb, with rustic steps to the Backbone Trail!
I ran farther on this trail than I had before, which was so cool! There were areas with tall grass. There were lots of mountain bikers who were nice and made sure to let me know they were passing. I got soaked from the grass and drizzle but it was exhilarating.
Our turn-around point was where the Backbone Trail meets Temescal Ridge, which we see when we run Trailer Canyon during the week. I love seeing how all of the trails connect. It's my favorite part about trail running, or one of my favorite things!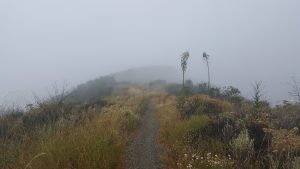 It was a tough run with the wetness and the single track but I pushed through. It was where I needed to be after a tough week.
Almost at the end of the run, a deer crossed my path. I rushed a little to take a photo of it. It had stopped and was staring at me! I took a photo and said, "Hey!" 🙂
I was so happy to have my friend, Laura, waiting for me. We stretched, celebrated the run and then got coffee. Nothing can be better.
Your path, your pace, Tam