Week 9 was a pretty good week, ending with 35.91 miles.
Monday, August 22, 2016 – rest
Tuesday, August 23, 2016 – hair cut (I had to squeeze in a hair cut!)
Wednesday, August 24, 2016 – AREC
I got in a nice 5.2 mile run with Greta. The view is always so pretty.
Thursday, August 25, 2016 – Dockweiler
I got in a pretty run at the beach. 6.61 miles. It felt good to be near the water.
Friday, August 26, 2016 – rest
Saturday, August 27, 2016 – Bulldog 25k!
This was my first time running the Bulldog loop as a race! I had so much fun and felt strong! The climbs didn't feel as hard and I felt good!
Sunday, August 28, 2016 – Dirt Divas and Dudes Griffith Park run
We ran at Griffith Park as part of Keira's training run for runners who want to try her Griffith Park 10k and Half in November. We ran to the Observatory and added on some miles afterward.
We ran 9 miles total with 1,952 feet of climbing, running Dante's Peak! Arggghhhhh. It was rough after Bulldog but we did it and I was so proud of us!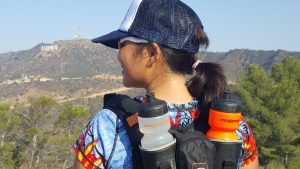 I had both of my Orange Mud bottles handy!
I couldn't believe we ran again. It was tough but we knew we needed some strong back-to-back runs for our 50k in November.
Your path, your pace, Tam