Training with the Dirt Divas for my next 50k at Leona Divide has been amazing! I've done so much more mileage than I ever have before and I've explored new trails. On Saturday, February 27, 2016, went to Irvine for some trails in the OC!
We met at the Quail Hill Trailhead. There were restrooms!
Our coaches marked the trail for us which was great! We began with a climb!
We took Serrano Ridge…
…and had a gorgeous view at the top!
We were above the clouds!
More of the girls were making their way up, so Joyce and I waited to say hi!
The Dirt Divas! It's been so great running with these ladies!
Next,we went to Little Sycamore. Some sections were a bit rocky and it was starting to warm up.
We got to Nix Nature Center where there were beautiful restrooms and water fountains. It was so pretty there!
We took Stagecoach South when we left Nix.
Then we took Laurel.
The fireroad wasn't technical.
I was surprised to see this! We were in the Laguna Coast Wilderness Park and you could call the number to get information about the trail–like the numbers you can call in a museum! So crazy! Haha…only in the OC!
The singletrack was a little more technical on the Laurel trail. I had to turn back at this point as I had to make it back by a certain time. I didn't get to my coach's aid station but I knew I could refill at Nix which was nice.
I love that our coaches mark the trail for us when it's tricky!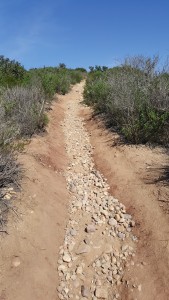 Yikes! This section was a little tricky for me!
I made it back to the top where earlier, we were running above the clouds! The sun was out now and it was very warm. 18 miles with 2,850 feet of elevation gain and in the heat. It was challenging and fun. I felt great and was confident going back alone. My coach, Keira, really wants us to be independent and not be afraid.
Running alone has been important, too, because often times you are alone on race day. There aren't crowds and spectators at every corner like in a road race. You have really dig deep and find strength within you to push on and keep going.
I found a lucky lady bug! I've been so lucky to have Coach Keira and my teammates in this new chapter of running. They've helped me grow stronger and have been an amazing support. With my second 50k, less than 2 months away, I'm excited to see what I can do on race day!
Your path, your pace, Tam