Disclaimer: I was given AfterShokz Trekz Titanium Pink to review as a Sweat Pink Ambassador with Fit Approach. As always, all opinions are my own.
Trekz Titanium Pink is the newest product by AfterShokz! There are so many headphones on the market and the problem most people have when wearing headphones is that they hurt when you wear them, they're uncomfortable and they don't allow you to hear what's going on around you.
I tried running with music years ago and got frustrated with the cables and getting the earphones to stay in my ear. This was before wireless headphones came along! I gave up on running with music and got used to not needing it to get me through a run. Now that I've been introduced to AfterShokz, it's a different story!
I've been trying them out for 6-8 milers at the beach or on the road. I wear them at work when I'm decompressing and getting my classroom ready for the next day. I use them to make phone calls, too! AfterShokz launched in 2011 and uses patented bone conduction technology for their unique headphones. They initially developed this technology for military special operations and law enforcement. What makes AfterShokz different from all of the other headphones out there? AfterShokz headphones have an open ear design allowing users to remain aware of their surroundings while listening to premium stereo sound. You can #beopen and #hearitall with Aftershokz.
I'm proud to be part of the #ShokzSquad and tell you about these headphones and Aftershokz campaign with their new Trekz Titanium Pink.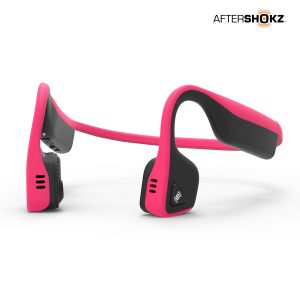 Here is some more info about Trekz Titanium Pink:
— They're wireless, sweat resistant and perfect for fitness enthusiasts, including runners!
— They don't go inside or over your ears and won't fall out mid-workout. The headphones cradle behind your hear and sit just near your ear and cheek. They don't block out your environment.
— How do they work? Transducers guide mini vibrations through the cheekbones to the inner ears, delivering sound without plugging or covering them.
— They're super flexible and lightweight for durability and portability.
— They won't get damaged from rain or a super sweaty workout since they're IP55 certified.
— The headphones last 6 hours on a single charge.
— The EQ presets boost bass and reduce vibration on the go for a premium music listening experience and don't allow natural sound leakage with its LeakSlayer™ technology so you don't bother others either.
— They dual noise canceling microphones exclude surrounding noise, effectively enhancing speech when making phone calls.
— You can listen to music, hear what's going on around you and take a phone call, too!
#AwareWithPink Campaign
Through October 31, 2016, AfterShokz is donating 25% of proceeds from each unit sold to Bright Pink, a non-profit organization that helps educate and spread awareness about breast and ovarian cancer.
Every time #AwareWithPink is shared on Facebook, Instagram or Twitter, AfterShokz will donate 25 cents to Bright Pink to help fund their continued efforts. This inspiring non-profit is changing the national conversation about breast and ovarian cancer, shifting focus from general awareness to that critical next step—proactive, life-saving action.  The statistics are alarming and there is a lot of work to be done. Read more about it here.
Free Hardcase with Purchase!
With your purchase, you get a free hardcase to keep your headphones safe!
Use discount code PinkGift for a FREE small portable storage case to go with your Trekz Titanium Pink headphones. Add the case to your cart and use the PinkGift discount code at checkout.
You get a charging cable, a bag for your headphones and the storage case!
Whether you're at the gym, on a run, making a phone call while running errands or enjoying Pumpkin Spice Latte 🙂 …AfterShokz Trekz Titanium Pink allows you to listen to music, be aware of ambient sounds and take a phone call, too. Proceeds from your purchase will help a great cause and don't forget to use #AwareWithPink on social media!
Your path, your pace, Tam