Now that I'm a trail runner, 5th grade camp had a whole new dimension to it! This was my 16th year at camp. We had 123 fifth graders, including my own class. It's always great to help our kids experience the outdoors.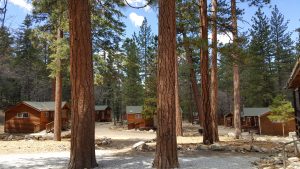 The kids get to sleep in beautiful cabins at Camp Conrad Chinook. I served as an Assistant Director and helped with running the program and activities, leading camp fire and anything else that needed to get done!
The San Bernardino Mountains are just beautiful. The air is cool and crisp. It was cooler than we're used to and we had a bit of rain on the second day but still got in all of our hikes!
We hiked to a small creek on the second day. We usually hike to the Santa Ana River but a fire damaged the trail to the river so we couldn't go that way. We got in a 2.7 mile hike and the kids go to play on a steep hill! They loved it.
I told my students that these types are trails are like the ones I run on on the weekends. I heard them say to other kids that they're good at hiking because they run and have stamina. Tee hee!
Of course, I had my Simple Squares on hand for snacks on the hikes!
We hiked to the lake in the late afternoon, about 3 miles round trip.
The lake had receded quite a bit but it still beautiful.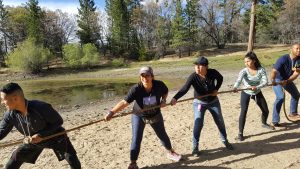 We played tug o' war and water balloon toss near Jenks Lake.
I got to play a bit, too! The second day was jam-packed from the time I woke up until 11:30 pm that evening. It was a great day!
I did something I've never done at camp–I woke up early on the last day to run. We climbed this hill on the hike to the creek and I thought it'd be a great hill for my hill repeat workout. It was in our camp, so it was close, and it was pretty steep! On the warm-up, I fell and my knees stung but I pushed on for the workout. I was half asleep and so tired from the day before but I was determined to get in my run. I got in 5 hill repeats and with the altitude and the steepness, I could feel it! Despite the tumble, I was happy I got to do the workout.
All in all, camp was hard work but I loved that the kids got to experience the outdoors and see what I see every time I get to play on the trails!
Your path, your pace, Tam