Disclaimer: I was given cases of Essence pH10 to review as a Sweat Pink Ambassador with Fit Approach. As always, all opinions are my own.
I've been drinking Essence pH10 alkaline water when I'm working and planning.
It's great for my strength training workouts.
I fill up my water bottles for long runs with Essence pH10.
I've taken it with me on long trail runs.
I make sure to rehydrate after a run with Essence pH10.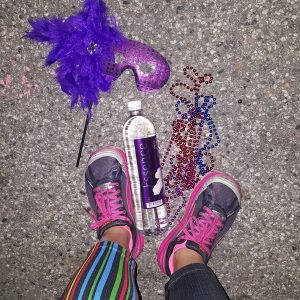 And it's festive for a Mardi Gras Fat Tuesday hill repeat workout!
So what's the big deal? Why have I made it part of my pre-race preparation, my running, my training and my recovery?
Here's the scoop:
• Essence pH10 is premium alkaline water contains 10% of the daily recommended allowance of calcium, magnesium and zinc acetate.
• It helps restore your pH balance and will boost your vitality.
• It flushes acidic toxins.
• The added 66 mg of organic hibiscus makes gives this water antioxidant power and makes it the only nutritional water on the market.
This is a company that stands by its product, making sure the water undergoes extensive testing and monitoring. The Essence pH10, Inc. system is licensed and inspected by the FDA, Department of Agriculture and the Department of Health. The water is certified organic, made by a company that has been in business for over 15 years. Essence pH10, Inc was founded by Joel Gabriel in 2005 and now has six manufacturing facilities nationwide.
Essence pH10 (and my coffee) help me get going at work. It helps me during my training.
And I have it during my recovery, too. It tastes really smooth and helps to detoxify. With all of the working out I'm doing, I need the extra calcium, magnesium, potassium and zinc. The added hibiscus for antioxidant power is what I need to stay strong and healthy!
I know you want to try Essence pH10 premium alkaline water, too! You can win a case from Essence pH10 by entering my giveaway on the Rafflecopter below. Bonus entries for answering this question on this post: When would you drink Essence pH10 water? If you can't wait to win the prize, you can find Essence pH10 at your local Sprouts or Whole Foods!
Terms & Conditions: No purchase necessary.  Void where prohibited. 1 winner will be selected via the Rafflecopter Giveaway widget.  Open to Residents of the United States, 18 years of age or older.  Must have a non P.O. Box mailing address.  Winner must have a valid email address. Contest ends Sunday, March 12, 2017 at midnight, PST.
Winner will be notified via email (if available) and/or blog post on Monday, March 13, 2017, and will have 24 hours to claim prize.  If original winner does not claim prize within 24 hours, an alternate winner(s) will be selected. Contestants must enter on the Rafflecopter widget in order to win.
All winning entries will be verified. If a winning entry cannot be verified as completed, a new winner will be drawn.  Winner will be provided the prize directly from Essence pH10. Substitutions unlikely but may apply. Good luck!
Your path, your pace, Tam