Trailer Canyon is one of my favorite trails. It's in the Santa Monica Mountains, in Pacific Palisades. I was happy some of my friends would finally get to run it!
We got to run above the clouds.
My friend, Consuela, suggested we climb Cathedral Rock. I had only run by it and seen it from afar but hadn't actually explored it. We climbed and checked it out. It was quite vast up there, surprisingly.
I had my Simple Squares handy for a snack!
We ran from one end to the other and climbed some more!
Come and hang out with me at the top!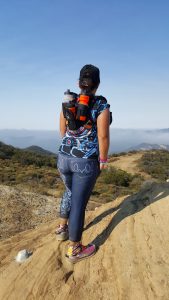 The view was amazing.
We sat and hung out for a bit. It was so nice to relax. We only had to run 10 miles so it felt so chill. These step back weeks are awesome.
We ran to The Hub and I showed everyone the sign with information about Cathedral Rock. There's a restroom there, too.
From there, we ran half a mile more toward Eagle Rock. The dirt was very different–orangey brown and not rocky. So cool how the terrain changes so quickly. We came up on this bench and relaxed some more!
I hadn't seen Barb in so long and it was nice to run, catch up and tease her about finding a date on these trails since there were so many mountain bikers out. 🙂 We all had a good run and went to Starbucks afterward to celebrate another run in the books!
Before coffee, I had to start my recovery with CarboPro Recovery Amino Power and water.
At Starbucks, a small outdoor fair was being set up and we saw some interesting animals on our way out! Trail running, running friends and coffee–what an awesome way to start the weekend!
Your path, your pace, Tam