I always love running on the 4th of July with my friends at A Better World Running!
I've missed the friends I get to see when I run with A Better World Running as I've been doing lots more trails! I got grief from my friends for not being around more! I know they love me and miss me! Haha. 🙂
I volunteered at registration and then got ready to run the race!
There was a great turnout. The 10k, 15k and halfers started at 7 am. The 5k runners started at 7:20 am.
I felt really good when I started. I cycled the day before so my legs were rested.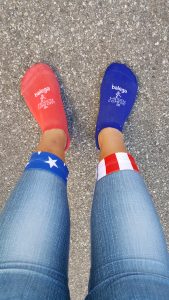 And my feet were moving faster with my red and blue Balega socks on!
I was so happy that I felt strong. I've been running so much trail and sometimes I feel pain when I run road. I felt great on my 15.5 road miler 2 days before and for this race, I felt really great! Hooray! I hope to keep getting stronger overall.
Maybe it was my red, white and blue outfit! Haha. I know it was from cross training the day before. I finished in 32:25. Lately, I've been doing 36+ minutes for 5ks so this is great for me!
Another 5k in the books and another great run to kick off a holiday! Yeah!
I was also excited to try Munk Pack Oatmeal Fruit Squeeze! There were samples at the race. It's like apple sauce with oatmeal in it. It's tastes like real food and would be perfect for long runs or just for a snack.
I'm grateful for our country, our freedom and this wonderful gift of running! Happy Birthday, America!
Your path, your pace, Tam