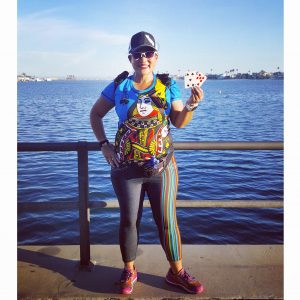 My running club, AREC, has an annual Poker Run and this year was a blast, as always!
We run our regular 3-5 mile Wednesday night route and pick up cards along the way!
Our card dealers were awesome!
By the 3rd station, I had a pair of 3s and one 5!
I love this part of the route. We run by the water and always have a beautiful sunset view. I had a pair of 3s and a pair of 5s before the finish! It would've been sweet to get a full house but I ended up with two pairs.
Dave and Stephanie checked everyone's hands to see who had the best hands. The winning hands got prizes!
Runners always stick around at Malarkey's afterward for food and drinks. A good time was had by all and I was just happy to sport my INKnBURN Club tech shirt! Haha! And collecting playing cards on a run is a great motivator!
Your path, your pace, Tam