I'm back at it, helping my favorite charity, Team Muscle Makers! I'm running the Star Wars 10k and Half Marathon in January 2017 for kids like my friend, Parker, who has Ullrich Congenital Muscular Dystrophy.
Team Muscle Makers' mission is to raise awareness for Ullrich Congenital Muscular Dystrophy. Ullrich Congenital Muscular Dystrophy (UCMD) is a rare form of muscular dystrophy with only a few hundred documented cases world wide. As a team, it is our goal to raise money for the research for new treatments and, one day, a cure for UCMD. We do this by running, making muscles, one mile at at time. The team's founder, Melissa Mayorgas, was inspired by her son's medical condition to start the organization. Melissa is an amazing mom, runner and friend.
My goal is to raise $800.  Raising this money benefits Team Muscle Makers and I get to run the Star Wars Light Side Rebel Challenge, consisting of the 10k and Half Marathon, January 14-15, 2017.
To kick off my fundraiser, I'm giving away awesome prizes!  For every $10 donation, you can get one entry for the following:
•  Momentum Jewelry set: 1 Motivate Wrap and 1 Foot Note
Check out the website for the great sayings for your wrap or foot note! I love having small reminders on my wrist and shoes to keep me going on a tough run.
•  INKnBURN:  one $25 giftcard
I always wear INKnBURN gear! It's made in the US of A, locally in Southern California. The technical, performance gear is comfortable and lasts for years. It's art on apparel and made so that you'll stand out in the crowd!
• Road ID:  two $15 gift cards
Road ID is a leader in personalized identification gear. Everyone needs gear that you can save you in the event of an accident, when you can't speak for yourself. I always wear my Wrist ID Slim when I run.
• Thirty-One Bag: one bag to keep you organized
I use these bags all the time to keep me organized! I have one for my running stuff, my school/teaching stuff, for grocery shopping and more!
• Simple Squares: 1 case of assorted flavors
I love Simple Squares for long runs, when I'm tired of eating chews and just want real food. I love them as snacks, too. They only have 5 ingredients and are simply made!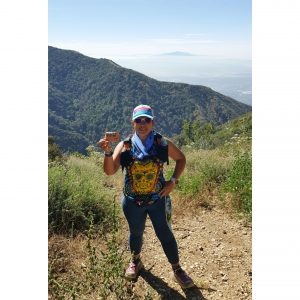 • BIC Bands Technical Trucker Hat: 1 technical trucker hat
I love BIC Bands' technical trucker hats! There are new designs, as pictured above. They're comfy to wear and keep you protected on warm days.
Donate through Wednesday, June 29th, 10 pm (PST) to be entered into the raffle! I'll draw names that evening and announce the winners.  Special thanks to my amazing sponsors, INKnBURN, Road ID, Simple Squares and Momentum Jewelry for donating these prizes for my raffle! When I get to the 50% mark and 75% mark, I will throw in additional raffle prizes!
Donate here:
https://www.crowdrise.com/teammusclemakersforucmd1/fundraiser/tamarapremsrirath  Every $10 is one raffle entry!
Thank you for your support! Let's make muscles, one mile at a time!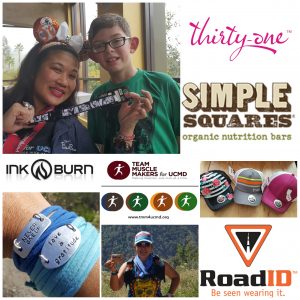 Your path, your pace, Tam
*********************************************************************************
Update!
Here are the winners of the raffle!
More details about the drawing can be found here:  https://www.randompicker.com/protocol/331312×99716
Congratulations to all of the winners and thank you for helping me raise $235 so far! Thank you to Heather, Priscilla, Diana, Holly, Cindy, Melissa, Angela, Nellie, Tonya and Jill!!! You rock!!!