I got to check out the course for my upcoming 50k at Leona Divide! I was excited to see the terrain and get a feel for what to expect for the big race.
We drove to the Valencia area–very far away for us Angelenos! But we got to run on the Pacific Crest Trail!
We began with a climb.
The views were beautiful! We've been a little spoiled with ocean views on our trail runs so there's no ocean view here but it's still beautiful!
The path was a bit narrow and sandy. It winded back and forth. I kept thinking how I was going to tackle this terrain on race day. I haven't been used to a trail that's winds and is sandy. Knowing this now, helps me visualize the course for race day and mentally prepare for it. The view doesn't change much like it did at Ray Miller so I must prepare to dig deep and find strength within myself.
I was lucky to share the run with friends! We trained for Ray Miller together and have come a long way since last year.
I love trail signs!
We got to this awesome sign, detailing past winners. It was inspiring to see it!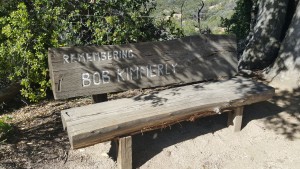 We arrived at this bench, a tribute to Bob Kimmerly who created the Leona Divide 50 mile course. At this bench and Leona Divide sign, we met two hikers! They were packing after spending the night on the bench.
The hikers were from Australia and were on their 28th day of hiking the Pacific Crest Trail! They started in Mexico and were now getting in about 20 miles per day. They wanted to check out Yosemite before going back, as their visa would expire on June 10th. It was cool to meet them and hear their story!
The terrain and the views!
Lots of turns!
In the 14.36 miles we ran, we had 2,773 feet of elevation gain. We didn't have steep climbs like Ray Miller or Bulldog. There were lots of rolling hills.
We had driven so far and didn't stop to go to the restroom before the run and I had to go! What to do?! I've had this anxiety about going to the restroom on the trail. But I had to do it as we'd be out for 4 hours. I found a side trail that was private and went! It wasn't so bad afterall!
I trailed behind on the way back and could see my friends from afar! Hello!!!
I loved this shovel sign! So cool!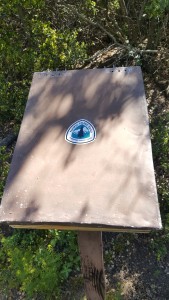 The best part was running on the Pacific Crest Trail! We got to check out the San Francisquito/Green Valley Station Register where people can sign and check in. I had read about these stations when I read Wild. 🙂 I felt so lucky to run on a trail that's so well known and stretches from Mexico to Canada. Leona Divide will be a special race, running on the PCT and conquering a tough endurance race. I hope to feel strong and can hold a steady pace. Time to taper and rest!
Your path, your pace, Tam