For my last long run before the Sean O' Brien 50k I got in a nice, solo run at one of my favorite trails, Trailer Canyon in the Santa Monica Mountains.
I was a little disappointed that morning when I started getting messages from each friend who was supposed to run with me. I was looking forward to catching up on the run and at coffee. But alas, I was running no matter what. I figured, it would be a good run for some solitude and reflection. I came across stacked rocks at the start of my run and it really made me happy!
I ran to my favorite outlook and had fun trying to take self-timed photos! Lol. It was super windy and cold on the way up! I only had to run 6 that day but felt good and ran 7.
I hadn't run in that kind of wind before! I had to keep my hat from flying away!
At the overlook, I had my yummy pinole snack, Korimalitas! I thought about my upcoming race, Sean O'Brien 50k. All the rain has made training not as ideal. I feel a little undertrained and the holidays and my birthday have not helped my training–I love to eat and have not had good discipline at all. Sigh. My goal at SOB is to finish. I know there will be water in the creek at Mile 2 and I haven't run on parts of the course so I feel a little worried about the unknown. I will have to embrace the water, the mud and whatever else comes my way.
I thought about what I need to pack in my drop bag and in my Orange Mud VestPack 2 hydration pack. I will definitely pack extra Balega socks and shoes, my Altra Olympus 2.0. Everyone says just go in the creek and your feet will dry as you climb after that. Yikes!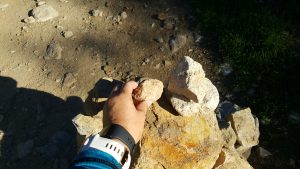 I had a good run and just knew that no matter what, I'd go my path, my pace. I made sure to add to the rock cairn on the way down and it made me feel connected to the trails, the land and the people who contributed to the stack.
After my run, my priority was coffee! I had my gear ready for changing–my Action Wipes, my Orange Mud towel and dry clothes! Yeah! After that it was coffee time for a bit more planning and reflecting. I don't know what will happen on race day but I will make sure I never give up, smile and remember that I can run and get to do these fun adventures! Yahooooo!!!
Your path, your pace, Tam