I ran this trail once last Dirt Diva season and hoped I would feel stronger this time around.
We climbed the whole way up to the turn-around.
There was a fire in Santa Barbara and the air quality was really bad.
We figured we'd run and if we felt anything, we could cut the run short.
A quick break!
We got to Henninger Flats and could use the porta john and fill up at the spigot.
We continued up. It was very hot.
I was glad to know my way on these trails a better this time. I had Simple Squares to keep me fueled. I try to consume calories every 20 minutes with Tailwind and water in between.
What are those towers way up there? We turned around at 8 miles. It was hot on one side of the mountain and shady on the other side.
I checked out this sign on the way down and saw that the trail leads to Mt. Lowe and Inspiration Point which was where we ran the first Dirt Diva practice this season. So cool how every trail connects! I love that!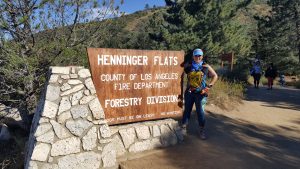 It was a good run despite being 90+ degrees with poor air quality. I got in 16 miles in 4:57:38 with 3,553 feet of climbing.
Your path, your pace, Tam