Week 3 was a busy week with working at school on English testing and BlogFest at IDEA World!
Monday, July 11, 2016 – rest day
Tuesday, July 12, 2016 – road run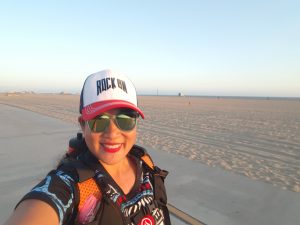 I got in a nice road run at the beach with Laura. We ran 8 miles. My lower back started to hurt a little with all the cement but it wasn't too bad.
I realized I miss beach runs, too, although I kept staring at the mountain horizon ahead!
Wednesday, July 13, 2016 – AREC run
I had my green smoothie before the run in my Smoothie Tuesday blender cup and ran 3 miles.
In other cool news, my picture made it on the Simple Squares blog page! Yay, thanks Simple! The other cool part was that the owner of Simple Square got in touch with me, asking me for permission to post it. Woohoo!
Thursday, July 14, 2016 – BlogFest!
It was the first day of BlogFest at IDEA World! Yay! I didn't get a workout in but I walked a lot. I think I walked at least 5 miles over the course of the 3 days of the conference.
I learned so much and got to meet so many amazing people like Jamie King, co-founder of FitApproach! The best part about BlogFest was meeting so many great people in the fitness world and feeling inspired to do more, not just with my blog but in my own fitness journey.
Friday, July 15, 2016 – BlogFest workout
We got to workout with Gunnar Peterson and it was tough! Here he is, helping us do planks with resistance! I was sore after the workout!
Saturday, July 16, 2016 – BlogFest and IDEA World workouts
Jillian Michaels!!! I got to take a class with Jillian Michaels! We did her 30 minute Body Shred workout and it was a killer workout!
Right after that, I took the BeachBody Live workout with my fellow BlogFest attendees. Luckily, it wasn't as brutal and we got to dance, too!
Sunday, July 17, 2016 – Trail run, Bulldog Loop
Luckily, I wasn't as sore as I thought I would be for my trail run! We ran the Bulldog Loop, 16 miles with 3,116 feet elevation gain. It's a tough trail and we were out there for 5 hours plus we dropped a car off half way before the run with ice, water, Coke and snacks and had to go back to get the car again. But it was all worth it. The views are amazing and the run is tough and awesome!
It was an inspiring week! I didn't get all of my miles in but I did manage 32.17 miles and 3 fitness workouts and I never do those kinds of workouts! It has inspired me to incorporate that type of workout into my routines whether it be doing planks, squats or something else. My next step is to schedule it in!
Your path, your pace, Tam