This is my first Friday Five and I just wanted to recap highlights for the week! It's been a busy week at work, as usual with testing, grading and preparing for 5th grade camp with 100+ students! I'm excited I had a productive week in training and a fairly good clean eating week.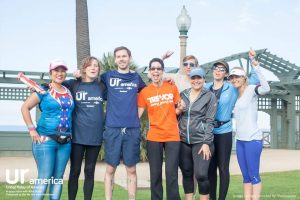 I helped kick off United Relay's Blue Team route in Santa Monica this past Sunday! United Relay is the biggest coast-to-coast relay, with 3 routes happening simultaneously! I'm part of the Blue Team and got to run Leg 1 in Santa Monica on May 8th! We ran a 5k and handed off the baton to the next runner. Check out my post about United Relay here!
All week long, I've been following the Red, White and Blue Teams on their journeys. It's been super cool to see members of the various teams and check out photos of the beautiful places they're running. You can follow the teams through the live tracking system now through June 4th, when the teams reunite in New York City! The Blue Team has run and cycled through Arizona now!
New Training Schedule
I've been putting together my new training schedule for my next 50k in November, Ray Miller 50k! I'm super excited to be part of Coach Keira Henninger's Dirt Divas and Dudes Ultra Team. We got the first several months of our schedule on an app so I was excited to map things out for myself on paper. (Yeah, I'm old school that way!)
Trailer Canyon Run
My training tribe and I went to Trailer Canyon again and it was an exhilarating run. We powered up the mountain. 1,243 feet of climbing on the ascent. We pushed and it felt so good. We ran farther on that trail than we had ever before and saw where it connects to another favorite trail, Will Rogers.
On the last descent, it's rocky and I'm always a little bit scared. This time, I said to myself, "Light feet!" and "Don't be scared!" I ran down that section the fastest I ever had and I felt super strong! I was really excited for myself! We ran 8 miles, which is on our schedule, and plan on running it every week. If we can keep it up, we'll be really strong by fall.
Strawberries
I've been obsessed with strawberries lately. They're not particularly sweet right now but I'm really enjoying them! I've been putting them in my smoothies all week and in my chia pudding! Soo good!
Amazing Grass Protein Superfood
I really love Amazing Grass Protein Superfood. I've tried a lot of protein powders and I really love this one! It's an all-in-one with plant protein, greens, fruit and veggies. I mix it with my regular green smoothie although you can just mix it with water or milk and drink it! I got a lot of samples of Chocolate Peanut Butter to pass out–in exchange for a super quick survey! Let me know if you'd like a sample and I'll send you one! I also have a 30% code to save through May 31st. The code is: SWEATPINKTam16. Read more about Amazing Grass Protein Superfood here!
There's my #fridayfive on this Friday the 13th! I've had nothing but good luck in terms of kicking off an awesome first training week, seeing my running friends (Dirt Divas and Dudes and AREC friends) and bonding with my students over Harry Potter and other situations this week. Thanks for reading my five things on this happy Friday!
Your path, your pace, Tam