Disclaimer: I was given a container of Amazing Grass Protein Superfood to review as a Sweat Pink Ambassador with Fit Approach. As always, all opinions are my own.
I was thrilled to be selected to try this new product from Amazing Grass. I'm a fan of their products and used to drink the Green Superfood–before green smoothies got really big. I always like to try different protein powders so I was excited to try Protein Superfood because not only is it a protein powder but it's an all-in-one with greens, fruits and veggies!
We got an amazing box of goodies from Amazing Grass. We got a full sized container of Protein Superfood, a Hands on Hemp produce bag, a PrAna Maha Yoga Towel and an awesome mason jar with a glass straw from Simply Straws. (Drinking out of a mason jar with a glass straw has really elevated my smoothie game! It's the little things, right?)
I always drink a green smoothie for my mid-morning snack at recess time and my afternoon snack at around 4 pm. I was happy to mix things up with Protein Superfood.
I made my green smoothie with greens, a little bit of fresh fruit (strawberries, blueberries, raspberries or any fruit you like!), and 1 scoop of Amazing Grass Protein Superfood.
I added a teaspoon of Vietnamese cinnamon, a teaspoon of turmeric and a couple of raw almonds. Sometimes I add MCT oil or coconut oil. I usually add flax, chia or hemp seed to my smoothies but Protein Superfood already has hemp and chia in it so I didn't add more. I filled my cup with almond milk and water. I blended it and it was ready to drink!
Protein Superfood tastes really good. Organically grown and harvested from their own family farm in Kansas, Amazing Grass uses nutrient-rich greens in all of their products. Amazing Grass Protein Superfood is an all-in-one nutrition shake with plant-based protein, greens, fruits and veggies!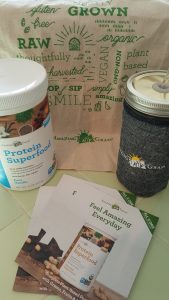 One scoop of Protein Superfood has:
only 110 calories
20 grams of plant-based protein which include pea, chia, quinoa and hemp
less than 1 gram of sugar (which I always look for in a protein powder–that it not have too much sugar)
7 alkalizing greens (wheat grass, barley grass, alfalfa, spirulina, chlorella, broccoli and spinach)
fruits and veggies (beet, carrot, sweet potato, goji, acai, banana and more!)
You can just add one scoop to 12 oz. or more of water or milk and drink it as is! It tastes great this way! As pictured above, the Pure Vanilla Protein Superfood with almond milk is green, smooth in texture and was easy to mix. It doesn't have a weird, chalky aftertaste like some protein powders have. It's easy to drink and really tastes good.
I had my Protein Superfood before workouts…
and after workouts to refuel. My smoothies kept me full. I've tried many protein powders of all types, from whey to pea. They almost always have a chalky after taste. Sometimes I get a reaction from protein that is whey or egg based. Sometimes I add it to my smoothies and it doesn't satisfy my hunger. Amazing Grass has made a product that has what I've been looking for. It has plenty of protein and it keeps me full. And it has greens, fruits and veggies. If you're an on-the-go type of person (aren't we all?), you'll love this shake. It really tastes delicious!
For my gluten sensitive friends, you'll be happy to know that Protein Superfood is gluten free! It's non-gmo, vegan and kosher, too! Each serving promotes lean muscle, aids in digestion and satisfies hunger. This is important for me, as I often run in the evening, before dinner and need something to keep me fueled through the workout until dinner time.
Now you want to try Amazing Grass Protein Superfood, right? I knew you would! You can enter via the Rafflecopter to win a full size container! You get to choose between Original, Pure Vanilla and Chocolate Peanut Butter! Follow Amazing Grass on Instagram, Facebook and Twitter. Comment here with which flavor you'd like to try! If you just can't wait for the giveaway to end, purchase Protein Superfood now and save 30% using code SWEATPINKTam16. This offer expires May 31, 2016.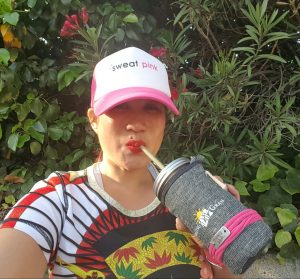 Terms & Conditions: No purchase necessary.  Void where prohibited. 1 winner will be selected via the Giveaway widget.  Open to Residents of the United States, 18 years of age or older.  Must have a non P.O. Box mailing address.  Winner must have a valid email address.
Winner will be notified via email (if available) and/or blog post, and will have 24 hours to claim prize.  If original winner does not claim prize within 24 hours, an alternate winner(s) will be selected. Contestants must enter on the Rafflecopter widget in order to win.
All winning entries will be verified. If a winning entry cannot be verified as completed, a new winner will be drawn.  Winner will be provided the prize directly from Amazing Grass. Substitutions unlikely but may apply.  Tamarathoner is not responsible for failure of sponsor to deliver product. If you have already won this item on another blog, please disclose so that another winner can be chosen. Good luck!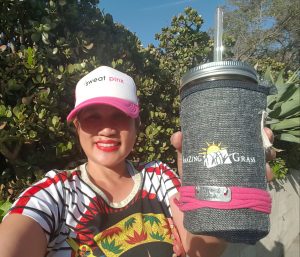 Your path, your pace, Tam