I finally got to join in on Los Angeles County Bicycle Coalition's (LACBC) Sunday Funday ride! Wayne has been going for years and now that I'm cycling, I can join in on the fun!
We met at Syd Kronenthal Park in Culver City.
I was a little bit nervous and excited as this would be my first group ride. Wayne had given me all of the rules about holding the line so I won't crash into anyone, staying with the group, etc.
As the lead ride marshall and creator of the route, Wayne went through the 19 mile route and gave us directions. He explained why we were taking a lesser known bike path, the Culver Bike Path, vs the Ballona Creek Bike Path. We would also get to ride on the new Expo Line Bike Path. Colin, from LACBC, gave us safety instructions. Wayne also advertised the Tour de Laemmle on July 24th and the JetBlue Long Beach Marathon Bike Tour on October 9th! I got to pass out some of my 10% codes for the Long Beach Marathon Bike Tour! (10% code: RUNJLBMTP)
We got a group photo before the ride began…
and we were off! There were about 60 riders.
It was cool to ride over the bridge to cross Ballona Creek. We rode to the Culver City Middle School from there.
I got to chat with Cynthia who's a member of Bike Culver City!
We took the Culver Bike Path that runs in the middle of Culver Blvd. It has a lot of stops but it was cool for everyone to check it out.
Wayne and Lac headed the pack!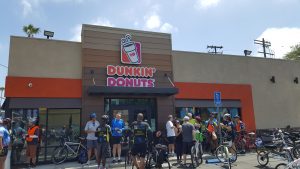 We got to our first stop, Dunkin Donuts in Culver City! Woohooo!!!
What time is it? It's Dunkin Donut time! This was my main goal for the ride–get to DD! Haha.
I got my iced coffee!
And I got some Munchkins!
We didn't think this stop would take so long but everyone was getting coffee and donuts and the restroom line was long. The time went by fast for me though. I had so much fun!
On the road again! We rode through West LA.
It was awesome to ride as a big group and see how a big group maneuvers in traffic.
We went through a cool tunnel!
We climbed a couple of small hills and ended up on the new Expo Line Bike Path. Ride Marshall Wayne wanted to show us the new bike path and where the disconnects are.
I had a lot of fun riding on the bike path and it was really cool getting the know the other riders.
After riding on the Expo Line Bike Path, we rode past the Motor Farmer's Market and then through downtown Culver City.
We ended the ride at Cool Haus Ice Cream shop in the art district in Culver City!
It was the perfect way to end the 19 mile ride!
Super fun group ride! Bikes, donuts and ice cream–what could be better?
After Cool Haus, we were all chatting and two of the members, Aubrey and Melba, invited us to their art gallery nearby for an artist opening. Cool, why not?
We went to Ivan Art Gallery on Robertson and checked out two exhibits. Bikes, donuts, ice cream and art! What could be better? 🙂
After relaxing at the art gallery, we were ready for food!
We rode to Kay 'n' Dave's in downtown Culver City. I was so hungry! It was all day thing but it was so much fun. We rode back to the park where our car was parked so all in all, I got in 22 miles! It was my longest ride thus far. Bikes, donuts, ice cream, art, food and friends! What could be better?
Your path, your pace, Tam