Week of 4 of my ultra training was a great week! I was inspired by being at BlogFest to really get back on track. I've been doing so much running but my training is not as effective for my fitness if I'm not eating well. I know it's more about the eating regimen, in terms of weight loss, than it is the exercising, working out part. It doesn't seem fair but it's the way it is. I should be able to run 40 miles or more per week and be able to eat whatever I want…sadly, this is not the case.
So I've gotta suck it up, buttercup, and get back to clean eating. Let's face it. It's boring. I'm going to try and make it exciting but it's pretty boring. But it will give me results and that's what I need. I've been looking at my photos and I've gotten so big and really, it's hard to run when you're too big. It would be gentler and easier on the joints and body overall, if I wasn't so heavy. I've done it before and I can do it again. I know I can do this!
Monday, July 18, 2016 – rest day
I took my godsons to the movies and had popcorn. This was the last day before my new start. I figured I'd go out with a bang–fake butter and all.
Tuesday, July 19, 2016 – strength training
I started out my day properly–water and coffee! I wrote in my Believe Journal and marked today as Day 1. I wrote my goals and wrote an affirmation statement, like I had learned at IDEA World at Jack Canfield's keynote speech. I'm giving myself a month to lose 8 lbs.
I did 15 minutes of strength training with weights at home and started a plank challenge and squat challenge. I figure I'll try for 10-20 squats for a week or two until I get better.
I worked on my jump squats! I have a lot work on in terms of squats.
I went to the Petersen Automotive Museum for a Teacher Preview Day and made sure to take my green smoothie for lunch with a combination of Bob's Red Mill Protein Powder & Nutritional Booster and Vital Proteins Collage Beauty Greens. I had my Simple Square snack on hand, too.
Wednesday, July 20, 2016 – Sunrise/Sunset Workout
I started my day with 5 miles of hill repeats, plank and squats.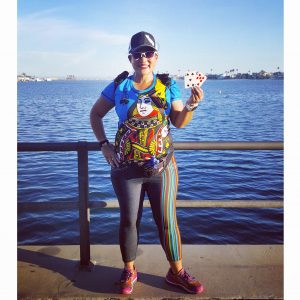 I ended my day with my running club's Poker Run. 4 miles. Read about the Poker Run here!
Thursday, July 21, 2016 – Sunrise/Sunset Workout
I got to run with the Coyotes at Will Rogers and got to catch up with Consuela! I was tired from the day before but I had to push through today to get all of my workouts in. 7 miles with 1,230 feet of climbing.
I love Will Rogers and this bridge is my favorite part of the run. You get a 360 degree view of LA.
In the evening, I ran the Summer Nights 5k, a cross-country race in the park with shave ice at the finish! So fun! I got in a warm-up so 4 miles total. Read my race recap here! 
Friday, July 22, 2016 – bike ride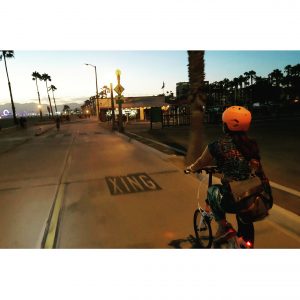 Wayne and I got in a beautiful evening bike ride in Santa Monica. We rode 9.26 miles and I got my cross training in. The Santa Clarita Sand Fire started that day and it was awful. We could see the smoke when we ended the ride.
I got in some tricep dips mid-ride.
Saturday, July 23, 2016 – rest day
I got in my plank challenge and squats!
Sunday, July 24, 2016 – long trail run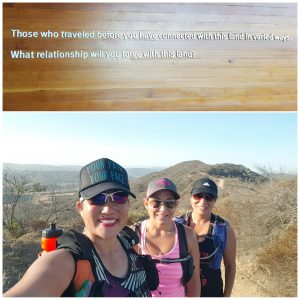 It was a hot, hot, hot weekend and the air quality in LA was really bad. Good thing our Dirt Divas and Dudes long run was scheduled for Orange County. I was so happy to have Kathy and Laura to run with.
We ran 20 miles with 3,515 feet of climbing. There was really no shade on this trail and it was super hot but we did it!
We dedicated our run to a lost runner friend, Freddy who always said, "Remember to remember…" He was our Team NutriBullet teammate gone too soon. Every run is a gift.
40.17 miles of running and 9.26 miles of cycling, strength training, planks, squats and 6 days so far of my weight loss plan. Hooray! My goal is to drop weight and fat for Ray Miller 50k! Let's do this!!!
Your path, your pace, Tam