This week was a good week in terms of running and cross training. I also had a teacher training. Work is beginning so it's going to be busy again!
I made sure to pack my green smoothies for the trainings!
Monday, August 8, 2016 – rest day
Tuesday, August 9, 2016 – cross training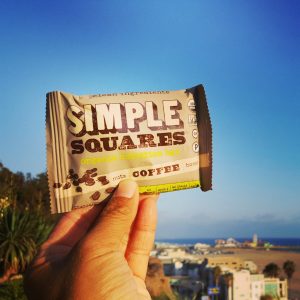 I won a free SoulCycle class in Santa Monica and got to invite friends! I got to SaMo early and took a nice walk near the ocean. I had my Simple Square snack before class.
My runner friends and I switched our running shoes for cycling shoes! What a workout!
Wednesday, August 11, 2016 – AREC run
I ran with my Long Beach running club, AREC. I ran 5 miles with the group and then ran 3 more miles into Seal Beach. It was a gorgeous night!
Thursday, August 11, 2016 – 10 miler
I had a tough run at Trailer Canyon. I was tired and drained. I almost skipped the run but I had to get the miles in. I got to watch the sunset and that view never gets old.
I was entertained by a huge tarantula I saw and several snake crossings! Their path is so cool! One was a skinny snake and one was fatter. I didn't see the actual snakes, sadly, but it was cool to see their path.
It was a tough 10 miler for me but I was glad to get it done. I was grateful for my friends who worried about me since I was so slow. They can't all be good runs although they mostly are so I'm grateful that these bad runs are rare for me.
Friday, August 12, 2016 – rest day
Saturday, August 13, 2016 – long run
My Dirt Divas and Dudes long run was in Aliso and Woods Canyons. It was a tough run with a couple of difficult trails but we did it! 25 miles! It was super hot, too. We were out there all day but we got it done.
Sunday, August 14, 2016 – Ciclavia
I went to my first Ciclavia! With the feeder ride from Culver City and going back and forth a few times, I got in 19.76 miles! I stopped at all of the booths and walked, too. It was so much fun!
I didn't get in my hill repeats this week but all in all, I got in 44.93 running miles and 19.76 riding miles. It was a good week overall!
Your path, your pace, Tam