The Bulldog loop is one of my favorite trails. It's beautiful, tough and challenging.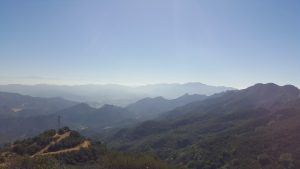 Joyce and I went early to drop off one car at the Corral Canyon parking lot so we could replenish our water bottles and fuel. Neither one of us had done that before and were curious as to how to get to that parking lot that would be at about Mile 7-8 of our route. We found it and left Joyce's car full of goodies.
I always love checking out the M.A.S.H Site on this route. It's just fun to look at the stuff from the T.V. show.
I never tire looking at these views. Bulldog has a ton of climbing on the Bulldog trail to Corral Canyon.
At Corral Canyon, we refilled our packs with ice, water and food! It was a nice break! It wasn't too hot like it can be at Bulldog but it's nice to have ice. There isn't any place to get water on the route.
After Corral Canyon, is my favorite part of the route–the big bouldery part of the loop.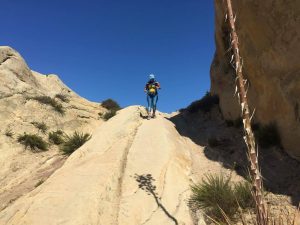 I once felt so scared on this part of the course but now it's much easier. It's still a little scary though!
Joyce hadn't been to the Corral Canyon Cave which was where Jim Morrison hung out and created music. It was closed but we checked it out briefly.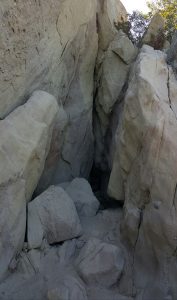 The entrance to the cave was now sealed off. Sad. There were probably too many people vandalizing it or leaving trash.
Fernie said this is how Bulldog got its name..there's supposed to be a bulldog figure here. Do you see it? I don't.
I do see an elephant here!
We had a great time exploring a little and had to get going for the latter part of the loop which is still tough.
There were some good climbs and a huge downhill section which I had forgotten about.
The creek was dry! We finished 16 miles by the time we ran back to our cars with a smaller climb at the end that we nicknamed English Bulldog! We climbed 3,116 feet and finished the loop in 5:03:06.
It was a good day and the weather wasn't too hot at all. It was so good to be out there!
Your path, your pace, Tam