Thank you for celebrating my one year blog anniversary with me! I really appreciate your support this past year! This giveaway was so much fun to do. I apologize for the delay in picking winners! I started teaching again and school became my first priority! My goal this year is to have a giveaway every 17th day of the month to continue celebrating! So please check back here and my Instagram @tamarathoner to enter the monthly giveaway!
Read all about the giveaway and the 5 brands that I chose for the blogiversary celebration here!
Here are the winners! And if you didn't win, there are some awesome discount codes for some of the brands!
1.) INKnBURN
INKnBURN makes art on apparel on performance fabric that doesn't fade, bleed or even look wet when you've been sweating for hours. Everything is made in Costa Mesa, CA by a small company owned by Rob and Megan Tsuyuki. They're innovative, creative and have made gear that really stands out in the crowd. The winner of the $25 e-gift card is: @willingtotri!
2.) Orange Mud
Orange Mud's motto is innovation from frustration. It's efficient, well-crafted, locally sourced gear.  I have 3 of the packs and almost everything else that OM makes! I love the shirts, water bottles, bags, headbands, buff…everything! Use my link and code TAMPEEPS to save 10%.
Orange Mud Prize #1 is the Orange Mud running water bottle and Challenge Headband! Winner: @itslibbyk
Orange Mud Prize #2 is the Sling Bag! The winner is Laura M.!
3.) Momentum Jewelry
Sometimes you just need a small reminder to keep pushing forward or to dig deep during a tough workout. I love jewelry so this brand was perfect for me! Everything is well made in the good 'ol US of A! There's a 20% discount code that expires on August 31st. The code is SUMMERSALE20.
Prize #1 is a love & gratitude Motivate Wrap. The winner is Michele W.!
Prize #2 is a dream big SPARKlet! This is a newer item and can be worn on your wrist or wrapped around your water bottle or anywhere else you need inspiration! The winner is Nellie!
Prize #3 is a live joyfully SPARKlet. And the winner is Debbie!
4.) BIC Bands
I've been a big fan of BIC Bands for so many years and just recently became an ambassador. The owner, Sandy Pearson, is a wonderful person who started making headbands as a fundraiser. It was a hit so she created her BIC Bands (Because I Can) brand and sells awesome no-slip headbands and technical trucker hats. Use my code TamBIC to save 10%. The winner is @ajsmilesrun.95!
5.) Balega
I've been wearing Balega for about 13 years now. They fit well and are very comfy. They're seamfree, have a deep heel pocket, keep your feet cool and blister-free. They're made with American made yarns and produced in South Africa and in the US. I'm lucky to represent Balega as a Balega Impi Warrior this year.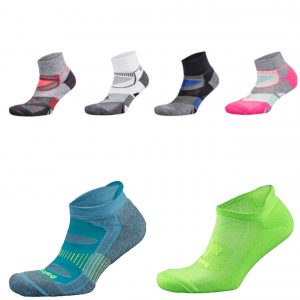 Thank you to Balega for celebrating with me and donating 3 pairs of socks to a lucky winner! The winner is: @carolynzav!
Thank you again for celebrating with me! I hope you'll continue checking out my blog for more fun adventures, tips and awesome products to try! Here's to another great year! Check back on September 17th for another giveaway!
Your path, your pace, Tam
**********************************************
Terms & Conditions: No purchase necessary.  Void where prohibited. 8 winners will be selected via the RandomPicker.com.  Open to Residents of the United States, 18 years of age or older.  Must have a non P.O. Box mailing address.  Winner must have a valid email address.
Winner will be notified via email (if available) and/or blog post, and will have 24 hours to claim prize.  If original winner does not claim prize within 24 hours, an alternate winner(s) will be selected.
All winning entries will be verified. If a winning entry cannot be verified as completed, a new winner will be drawn.  Winners will be provided the prize directly from Tamarathoner and Balega. Substitutions unlikely but may apply.  Tamarathoner is not responsible for failure of sponsor to deliver product.
To check out the drawing on RandomPicker.com, click here.
Thank you!!!