I ran my first 30k at Old West Trails on March 19, 2016. Read all about the pre-race fun here.
After I cheered on my friends running the 50k, I went to get ready for my race that was an hour away. I had my Balega socks and my new Altra Olympus 2.0 trail shoes!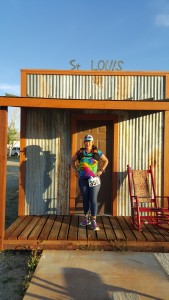 I got everything ready and went to start that was just feet away! I loved being so close to the start!
Pre-race photo ops! It was warming up already!
RD Geezer Larry made a few announcements and they made sure he didn't talk too much! He said to run smart and make sure we didn't over exert ourselves in the heat. And to have fun, of course! We had an on-time start at 8 am!
The views were amazing.
The first mile or so was sandy and I wasn't used to it!
We made a turn and the trail markers changed color. White ribbon was for the 50k, to the left. Blue ribbon was for the 30k. The 50kers would be on this trail later on.
We had single track here and the trail was hard-packed dirt so it was easier for me to run on!
I got to the first aid station but didn't need anything just yet.
This was my first time running on a trail desert course and although it was warming up very quickly, I just enjoyed it all. I ran alone and it was so serene and peaceful. This season, I've really learned to run and be alone on the trails and I know it'll help me mentally when I'm alone on the course for the 50k.
The trail was more open after the aid station, hard-packed dirt.
I felt great at the beginning!
So cool! Pictographs trail!
I didn't get to see any pictographs. I think it was probably just off the trail we were on but I learned that we were on sacred American Indian ground. So cool.
At the next aid station, I saw my friend, Kat! She helped me refill and cool down! She's the one who told me about this race as her boyfriend is the Assistant RD and would be taking over the race after this year. He drove on the course and cheered us on!
It definitely was warming up but there was a slight breeze so I was okay. By this time, the fast 50k runners were passing me and I got to see fellow Orange Mud ambassadors going all out!
The next aid station was the turn-around.
They were well-stocked and I especially enjoyed the fresh fruit! The volunteer was so amazing to refill my bottle with my Tailwind and make sure to replenish my ziplock with chips! She insisted and I couldn't say no! Every aid station also had a porta potty that was brought in. Amazing!
I headed back!
Desert!
I was hot, hot, hot and wished I had brought a cooling towel with me. Duh! But I cooled off again at the aid station and was looking forward to seeing my friends doing the 50k.
I got to see Kristina who ran her first 50k! Yay!!!
And I got to see another fellow INKnBURN ambassador, Jenn! I was so happy to see them and cheer them on!
I had to dig deep as I was hot and a bit tired but I knew I could finish strong.
Hooray! The Jubilation Line was near! I loved that the finish line was the Jubilation Line instead! That's the most awesome name!
Luckily, the sandy trail wasn't as bad coming back. I must've gotten used to it already!
Horsie!
I knew the Jubilation Line was near! I pushed myself at the end!
There was a slight uphill at the end, too! I was so excited to finish my first 30k!
Geezer Larry presented me with my leather medal and said I looked strong running in! I finished in 4:34 for my first 30k!
Jubilation Line! It was so cool to have fellow runners cheering me on and my boyfriend, Wayne, was waiting at the finish!
I celebrated a bit inside the lodge and then went to shower and change.
The best part was the lunch in the lodge for all of the runners and family. There were two kinds of soup, spaghetti, salad, rolls and drinks.
And a nacho bar!!!!!! Whoever thought of this is brilliant! There was chili, cheese and all the fixins!
The meal was so good! It was great to sit, eat and chat with fellow runners. I'm so honored to be part of this community.
We packed up to head home!
We said good bye to our humble abode! We would definitely stay at Stage Coach RV Resort again and maybe even just come to get away from it all.
On our way home, we had to stop in Julian and try apple pie! We tried pie from three different places since every local we asked recommended a different place. It was yummy but even better the next day. Pie was the perfect post-race treat! I loved this race, from the camaraderie, Geezer Larry, food and course to the leather medal! It was great and I'd run it again!
Your path, your pace, Tam