A big part of ultra running is volunteering and giving back. Races can't happen without volunteers. I think about all of the races I've done and all of the volunteers who show up to hand out water and I know giving back a few hours of time is the least I can do.
My coach is the race director for the Griffith Park Trail Half and 10k. I volunteered to help and was made captain for the Mt. Hollywood aid station. I decided to make our aid station a Western theme! Yeehaw! I had to make it fun!
I had Western decorations and posters to cheer on the runners. We had a nice group with veteran aid station volunteers and my teammates, the Dirt Divas and Dudes!
We got everything ready for the runners…water, electrolyte drink, soda, oranges, pb & j sandwiches…the works!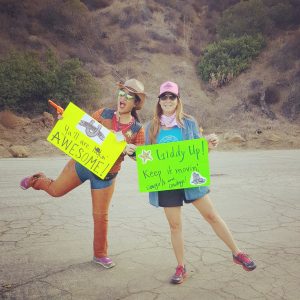 Kathy and I went to man a tricky spot on the course where runners need to turn but might miss the ribbons. We directed the runners and even with us there, some of the runners were so focused, they almost missed the turn! We had fun cheering them on and making sure they were going the right way! I'd say, "Giddy up, runners! Yeeehawww!!!"
We all had fun with the Western theme and the props! So much fun!
It was great to see friends on the course!
After volunteering, I got on the race course and did my own run.
The views from Griffith Park are truly amazing.
I decided to take a path I hadn't run on before. It's always fun to explore! I ended up at the Pony/Trail Rides area! Perfect for my outfit today! It was a great day! I got to give back to my ultra community, see my running fam, hang out with runners and then run and explore. Good stuff! Next week I get to run my third 50k at Ray Miller!!!
Your path, your pace, Tam