Will run for shave ice! On Thursday, July 21, 2016, I ran the Sumer Nights 5k at Heartwell Park in Long Beach. I've run this race several times now and it's always a lot of fun!
This year, it's a 4 part series (instead of 3) with 2 races in Long Beach, 1 in Huntington Beach and 1 in Brea. The price is great and you get Haole Boys Shave Ice at the finish!
There were a lot of ARECers and Runners High members at the race. We made new friends, too!
It was a hot day but it cooled down during the race and it actually wasn't as hot as I thought it was going to be. I had already run 7 miles at Will Rogers that morning so I wasn't sure how I would feel but I felt pretty good! Luckily, I got to run with my friend, Stephanie, and we chatted the whole time!
The course is tough as it's on grass, taking us on 3 different loops around the park. All of the cross-country kids beat us! Haha.
There was still plenty of shave ice for all of us!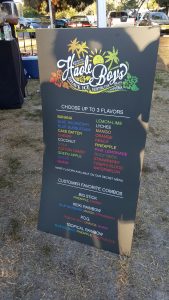 So many choices! The Big Stick sounded good–pineapple and cherry!
I settled on pineapple, cherry and lychee!
We all enjoyed the shave ice! It was so refreshing after a hot run!
After the race, there was a great raffle with lots of prizes!
Steph won a glass and socks! Raffle prizes included shoes, hats, Baskin Robbins gift cards and more!
Summer Nights 5k is a lot of fun, especially with running club friends! I love the challenge of cross-country course and best of all, I'll definitely run for shave ice!
Your path, your pace, Tam