Renegade Racing's Coaster Run at Knott's Berry Farm is an awesome race that I've done for a couple of years! This year was special as I got to run with my godson and best friends! And as an ambassador for Renegade Racing, I was proud to be at the event!
My godson is 12 now and getting too big!
It was a hectic morning with the rain and various lines for bib pick-up and shirt pick-up. But we got it all done and the rain stopped in time for the race!
Time to run!
The sheriff was in for the start of the race!
We ran into Knott's and through the area with all of the fast, scary rides!
The guys found new dates!
We did, too! 🙂
Best of all, Lucy and Linus!
It was so cool to run inside the park!
We ran outside the park afterward. My godson was long gone as he didn't want to wait for photos. Haha.
We ran through Soak City next.
Finish line!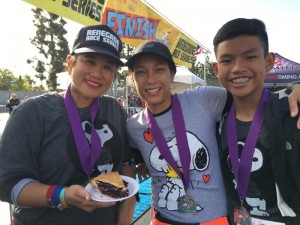 We got a sweet Snoopy medal and boysenberry pie at the finish!
The runners!
After our race, we walked to Camp Snoopy where my younger godsons got to run a 1k. They had a blast!
It was so awesome to share this experience with my godsons!
Renegade Racing's Coaster Run is the perfect family event with something for everyone–10k, 5k and Kids' 1k Run. Everyone gets a medal, shirt and pie! And my secret is, I always bring a plastic container for my pie and save it for later when I have coffee! 😉 I had the best time with my godsons and family and was glad we could do this together! Till next year!
Your path, your pace, Tam