*** I really love Action Wipes so much that I asked them if they would like to sponsor a giveaway for my blog–they said yes! Thank you, Action Wipes, for working with me and sponsoring this awesome giveaway! As always, all opinions are my own.
Let me tell you about this great product, Action Wipes. Action Wipes are like baby wipes but better! They're no rinse wipes and are great for cleaning up after a run, bike ride, hike or workout. The wipes are larger than regular baby wipes and are extra moist so you can really get clean and feel refreshed like you've showered. They're made with plant derived ingredients and pure essential oils and smell so good!
I first learned about Action Wipes when I ran the San Luis Obispo Ultra. I ran the marathon at the event and was curious about Action Wipes since I hadn't seen it before and have seen similar wet wipe products.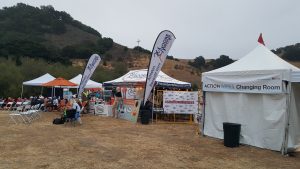 I thought it was so cool that Action Wipes offered a changing room for after the race. The race offered a bbq, beer garden and concert so having a place to change and clean up was perfect so that runners could hang out comfortably afterward.
During the race, I grabbed an Action Wipe at one of the aid stations. It was about Mile 20 or so and I had gone a couple of miles smelling myself and it wasn't pleasant. 🙁 I wiped down a bit using the Action Wipe and it was so refreshing! I loved how it smelled and took it with me to just breathe in the essential oils for a while. I felt clean and revitalized and pushed on the last few miles. I had a really great race and cleaned up again using Action Wipes as I hung out and waited for my friends to finish the 50 miler.
I bought a 30 pack and a 10 pack at the race and have had it in my bag since running SLO. It's part of the essentials I need after a long run on the trails.
After I ran the Saddleback Goat Half Marathon, my feet were really dirty.
I used Action Wipes and my feet were clean after a grueling, tough half!
As you can see above, Action Wipes are bigger than regular baby wipes. They measure 9″ x 10″ and are so moist that they really can clean your entire body. I used to use many wipes just to get all of the dirt cleaned up after being on the trails. I only need one Action Wipe to get the job done.
The 30 pack pouch size measures 12" x 4" x 1″ and weighs 15 oz. and is quite big but fits well in the bag I take with me for long runs.
I have the 10 pack, too! I put the 10 pack in my gear check bag so I could clean up after running the Rock 'n' Roll LA Half. The 10 pack is nice for race day as the pouch measures 6.5" x 4.25" x 1″ and only weighs 5 oz. The wet wipe is just slightly smaller at 8″ x 10″ instead of 9″ x 10″.
I carry them wherever I go! I always change after a run or race because I have sensitive skin and don't like to be in wet clothes afterward. I always have a change of shirt and the Action Wipes have really helped keep my skin rash-free.
For someone like me, with sensitive skin, I can feel good about what I'm applying on my skin with Action Wipes. Here are some details about Action Wipes from their website:
Action Wipes are made with plant derived ingredients and pure essential oils traditionally used for their antibacterial and antiseptic properties – like tea tree, eucalyptus and frankincense.
Action Wipes are a pre-moistened, no rinse body wipe created specifically for when there is no water or shower facilities available. One Action Wipes can equal up to 25 gallons of water, which is the average amount used in a 10 minute shower.
Inventor, Martha Van Inwegen, saw the need for a natural wet wipe that was large enough to use on the entire body, that was safe for the whole family. She and her husband, Curt, have worked hard to build their Life Elements business which makes natural body care products like Action Wipes right here in California. They are concerned about the environment and living in California, they are especially concerned about the drought. Action Wipes helps in the conservation effort. Martha and Curt believe in making products made from "natural ingredients that are safe for our bodies and have minimal impact on the environment."
I love that they also give back. They've donated thousands of Action Wipes to the troops serving in Afghanistan and Iraq, to firefighters and to people who had to evacuate their homes during wildfires.
Whether I'm running on the road or the trails, long run or race day, I've got my Action Wipes with me.
I also packed Action Wipes in my drop bag for my third 50k, too! It was a perfect refresher at mile 19 and I used the wipe to breathe in the essential oils for a while after leaving the aid station. It was really awesome. After I used it, I kept it in my running pack. Why? Action Wipes promotes upcycling their wipes, too!
I throw them in the washer with my running clothes and they're clean again! They can be washed multiple times. Action Wipes tie dyes them and repurposes them to make clothing and other cool items! I haven't decided what cool project I will use them for yet but they have been handy to wipe down counters and dust furniture.
I know you're eager to try Action Wipes, too! You can win this Adventure Pack by entering my giveaway via Rafflecopter. Bonus points for commenting on this post and answering this question: How would you use Action Wipes?
Terms & Conditions: No purchase necessary.  Void where prohibited. 1 winner will be selected via the Rafflecopter Giveaway widget.  Open to Residents of the United States, 18 years of age or older.  Must have a non P.O. Box mailing address.  Winner must have a valid email address. Contest ends Friday, December 2nd at 11:59 pm.
Winner will be notified via email (if available) and/or blog post on Saturday, December 3rd, and will have 24 hours to claim prize.  If original winner does not claim prize within 24 hours, an alternate winner(s) will be selected. Contestants must enter on the Rafflecopter widget in order to win.
All winning entries will be verified. If a winning entry cannot be verified as completed, a new winner will be drawn.  Winner will be provided the prize directly from Action Wipes. Substitutions unlikely but may apply. Good luck!
If you can't wait for the giveaway to end, shop now and use code tam20 to save 20% thru December 12th. I know you'll love Action Wipes as much as I do!
Your path, your pace, Tam