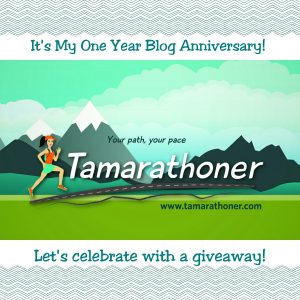 It's been a year since I launched this blog! A year goes by fast and so much has happened in a year.
I started the blog a year ago after I attended IDEA World Fitness and Health Convention as a vendor for Momentum Jewelry. I was inspired by all of the fitness people I met and all of the bloggers I met at BlogFest. It gave me the boost I needed to redo the blog I had started once before and really do it right this time. So I came up with my blog name (thanks to Wayne!), my "Your Path, Your Pace" tagline and I worked hard to create this website. I still have a lot to work on but I think I accomplished a lot in one year.
I published my introductory post on August 17, 2015. Read it here: 5 Reasons to Blog. I reread it as I've been reflecting on the past year. The reasons I started the blog are still the same today and that's a good thing! I still have a lot of room for growth and improvement in terms of what I'm writing about and getting it all done in a timely manner is still a struggle. But all in all, I'm really happy with my blogging journey!
I've been able to use it as venue to share my love of running. I have a place to share the many photos I take! I've been able to document all the amazing trails I've been running on since last summer and recapping races I've done. I like to read other people's race recaps when I'm checking out a new race so I hope my blog can help someone else, too.
Blogging about my running is my way of journaling and reflecting on the process. It has helped keep me accountable in my training for my ultras. I've always journaled after races but blogging has allowed for more depth and a venue for sharing that publicly. The technological challenges has helped me grow personally as I'm not super tech savvy. It's been hard but I've figured it out (and continue to learn all the time) and am thankful to fellow bloggers who gave me advice and tips. For this next year of my blogging journey, I hope to document my weight-loss transformation. I'm writing it here to make it public! My goal is to say I've lost ___ lbs. and am stronger than I've ever been! I will say this next year!!!
What has also been really cool, that is a bonus for me, is getting to work with amazing brands. I've been so lucky to connect with brands that I already love and brands that are new to me. I get to try new products and share what I think about them. I feel very fortunate to have a forum for telling others about brands that I have loved and believed in before I started this blog, brands that I'm lucky to be an ambassador for and represent. So to celebrate my one year blogging anniversary, I want to share goodies from five of my favorite brands for #fridayfive! Giveaways have been such a fun part of blogging so I wanted to have fun giveaways to celebrate my blogiversary!
1.) INKnBURN
I've been an INKnBURN ambassador for 3 years and am lucky to represent a brand that sticks to what they believe in. INKnBURN makes art on apparel on performance fabric that doesn't fade, bleed or even look wet when you've been sweating for hours. Everything is made in Costa Mesa, CA by a small company owned by Rob and Megan Tsuyuki. They're innovative, creative and have made gear that really stands out in the crowd. When I wear INKnBURN, I feel good. When you look good, you feel good! Win a $25 e-giftcard by commenting below!
2.) Orange Mud
Orange Mud's motto is innovation from frustration. It's efficient, well-crafted, locally sourced gear. Owner, Josh Sprague, is a pioneer in creating gear that meets athletes' needs. He tests everything out on the trails and is really awesome about getting ambassador feedback. I've been an ambassador for 2 years and train with Orange Mud hydration packs all the time. I have three different packs based on the length of the run. I have many other OM branded items, too like the headbands, shirts, bags…I love it all!
Orange Mud Prize #1 is the Orange Mud running water bottle and Challenge Headband!
Orange Mud Prize #2 is the Sling Bag!
3.) Momentum Jewelry
I've been a Momentum Jewelry ambassador for 2 years and love this brand! The owner, Amy Cochrane, wanted to create motivational jewelry for working out! Sometimes you just need a small reminder to keep pushing forward or to dig deep during a tough workout. I love jewelry so this brand was perfect for me! Everything is well made in the good 'ol US of A!
Prize #1 is a love & gratitude Motivate Wrap.
Prize #2 is a dream big SPARKlet! This is a newer item and can be worn on your wrist or wrapped around your water bottle or anywhere else you need inspiration!
Prize #3 is a live joyfully SPARKlet.
4.) BIC Bands
I've been a big fan of BIC Bands for so many years and just recently became an ambassador. The owner, Sandy Pearson, is a wonderful person who started making headbands as a fundraiser. It was a hit so she created her BIC Bands (Because I Can) brand and sells awesome no-slip headbands. I love the technical trucker hats, too! I wear them all the time at work, casually and after a workout. I gave away 2 sets on my Instagram account this week and here's another pair of pretty, sparkle headbands!
5.) Balega
I've been wearing Balega for about 13 years now. They fit well and are very comfy. They're seamfree, have a deep heel pocket, keep your feet cool and blister-free. They're made with American made yarns and produced in South Africa and in the US. I'm lucky to represent Balega as a Balega Impi Warrior this year. 
Thank you to Balega for celebrating with me and donating 3 pairs of socks to a lucky winner!
These 5 brands are amazing and keep me motivated, inspired, fueled and happy on my runs! I want to share some of the love with you for my blogiversary so please leave a comment to enter! Comment on which prize you'd like to win or which you'd like to try! A blog comment will give you 3 entries! Comment on my Instagram #fridayfive blogiversary post for an additional entry! There are over $200 worth in prizes to be won! Giveaway ends on Monday, August 22nd at midnight, PST. Good luck!
**********************************************
Terms & Conditions: No purchase necessary.  Void where prohibited. 8 winners will be selected via the RandomPicker.com.  Open to Residents of the United States, 18 years of age or older.  Must have a non P.O. Box mailing address.  Winner must have a valid email address.
Winner will be notified via email (if available) and/or blog post, and will have 24 hours to claim prize.  If original winner does not claim prize within 24 hours, an alternate winner(s) will be selected. Contestants must comment in order to win.
All winning entries will be verified. If a winning entry cannot be verified as completed, a new winner will be drawn.  Winners will be provided the prize directly from Tamarathoner and Balega. Substitutions unlikely but may apply.  Tamarathoner is not responsible for failure of sponsor to deliver product.  Good luck!
**********************************************
Thank you for reading my blog and for your continued support! I look forward to another great year of blogging, growing, learning, improving and having fun!
Your path, your pace, Tam