This summer, I'm going to bike! I've made it a goal to get in cross training and cycling was the way to go! Why cycling? Well, my boyfriend Wayne, is an avid cyclist and he can teach me. Secondly, I got this new awesome folding bike from Tern Bicycles and it just makes me want to ride!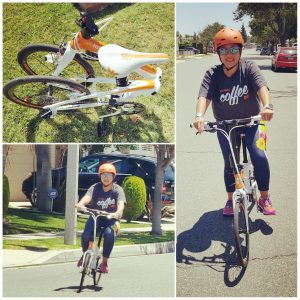 I took the bike to my parents' house to show my sister and took it out for the first time around the neighborhood. I figured the suburbs is a good place to try it out for the first time. I could tell from photos that my left knee needed to come in a bit more. I got in 6.17 miles and felt great!
Later that day, I met Wayne in Santa Monica since he was on the bike already and my bike was in the car! I did some street riding which really freaked me out but I had the best bike marshall!
We biked on the bike path which was very crowded at times. Santa Monica is always bustling on the weekends and during the summer. Wayne did correct my form and told me to turn my knees inward. It felt weird but would save my knees!
We got in 5.44 miles and I learned a lot about cycling on the streets. I learned how to signal when turning and just how to make sure that cars don't run me off the road. I learned how to hold the line (meaning, to keep my position in the turn lane and not cross over.) It was quite stressful and I hope to get better at it! Here's to new adventures!
Your path, your pace, Tam