Week 5 was a great week for me! I got in 47.06 miles! My vacation days are numbered so I had to make the most of every day off before work begins again–like next week!
Monday, July 25, 2016 – rest day
I rested and read! I added Vital Proteins Collagen Peptides to my coffee for some extra protein!
Tuesday, July 26, 2016 – Smoothie Tuesday Trail Race
I ran the 2nd installment of Rock It Racing's Smoothie Tuesday Trail Race! The course was correctly marked this time and I ran 4.38 miles (for a 4.25 mile race) with a warm-up and cool-down. It was a lot of fun and I got a smoothie at the finish!
Wednesday, July 27, 2016 – Hill Repeats and Knott's!
I started my day with 4.60 miles of hill repeats at 5:30 am.
Then I took my godsons to Knott's Berry Farm!
We had a blast and got in about 6 miles of walking!
I got to use my Orange Mud Give and Take bag! It was perfect for storing our lunches, snacks and other stuff! (Use the link above and code TAMPEEPS for 10% off of anything at Orange Mud!)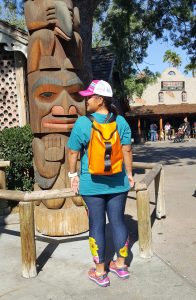 Thursday, July 28, 2016 – Coyote Thursday trail run and SoulCycle class
There's nothing better than a sunrise run at one of my favorite trails, Westridge! I got to see my friends and catch up, too.
We ran to the Nike Tower and got in a good 7.22 miles with 1,027 feet of climbing.
The views here are just beautiful!
In the evening, I took my first SoulCycle class with Coyote friends. It was hard! My right foot went numb and other places hurt, too! Lol. But it was fun to try something different.
Friday, July 29, 2016 – rest day
Saturday, July 30, 2016 – Dirt Divas and Dudes long run
We ran from Will Rogers to Trippett Ranch and got in 24 miles! It warmed up a lot on the way back but I was so happy I felt strong at the end. 7 hours with 4,045 feet of climbing! Woohoo!
Sunday, July 31, 2016 – rest day
I rested on Sunday which was great! I had to pack for my work conference and made sure to pack what I needed for green smoothies!
I had a great training week and a great month! I kept up with my planks, too. I hit my highest mileage in a month for the year! I hope to keep getting stronger and stronger!
Your path, your pace, Tam