We've had so much rain in the Los Angeles area…it's been good and bad. We need the rain, just not all at once! I didn't get to do my long run on Saturday because I had work. I had to run on Sunday but it rained! And it rained all day!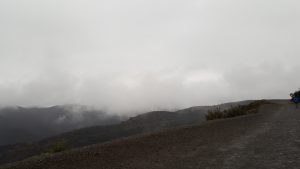 I was supposed to do one more long run, 26 miles. I knew it wasn't going to happen with the rain.
I figured I'd at least run to the top of Westridge. The big storm was due to come at around 10 am and I didn't want to be caught in that. The great thing was that I saw a couple of friends on the trail when I started.
I love the views at Westridge and they're really magical on an otherwise dreary day.
The trail does really well on rainy days or after rainy days because of the incline and angle of the trail, the water drains on the side. So the trail isn't muddy at all except for maybe 2 spots. But you just cross them quickly and it's fine again.
I actually loved being out there alone and just taking in the solitude. I thought a lot about my upcoming 50k at Sean O'Brien. I don't know if my training has been as solid as when I ran Ray Miller. I've been doing more strength work but my eating hasn't been too great. (Too many sweets and treats!) My coach said to think of Ray Miller as my training for SOB. So I have to go with that and trust in her and my training. If anything, I know that Sean O'Brien will be good practice for the 50k after that.
I got to Nike Tower and was glad to use the restroom. It was nice and dry in there. It was 3.64 miles to the top.
The rain was coming down a bit harder on the way down. I was soaked already. I really need a waterproof jacket. So I only got in 7.25 miles with 1,099 feet of climbing. It wasn't a long run but I  had to get out there to get some miles in.
Nevertheless, I had a really good run. The outline of the mountains is my favorite thing. I just love it.
I was wet from head to toe! I had to quickly change out of my wet Balega socks into some nice, dry wool Balega socks!
I also had my awesome Orange Mud Transition & Seat Wrap on hand! I use it to dry off and cover myself while I change. Then I use it to protect my car seat afterward! It's always in my car!
I'm thankful for any run and I know that running in the rain is good for my mental strength and toughness! Us Angelinos are wimps when it comes to rain so this was great for me!
Your path, your pace, Tam