Disclaimer: I was given Chocolate Coconut and French Vanilla Protein Powder by IDEAL Fit to try, as a BlogFest attendee. As always, all opinions are my own.
It's National Chocolate Day! October 28th is National Chocolate Day! Who doesn't love chocolate?
Why IdealLean Protein Powder? There are so many protein powders on the market. It's hard to find one that's right for women. IDEALLean Protein Powder is made for women with just 80 calories per scoop and 20 grams of protein. It's 100% whey isolate with 0 gram of fat, sugar or carbs. And it tastes great! I'm always looking for good protein powders that don't have a bunch of stuff in it that's not clean. I need a protein powder that will keep me full throughout my run. I usually add protein powder in my green smoothie but this time, I decided to try two of IDEAL Fit's recipes incorporating their protein powder!
Chocolate Coconut Pumpkin Bread
I love chocolate and anything pumpkin so this recipe caught my attention immediately! Check out the recipe here. The ingredients were easy enough and the recipe is really clean.
INGREDIENTS
1/2

c

oat flour

1/2

c

almond flour

1

scoop Chocolate Coconut IdealLean Protein

1

tsp.

baking soda

1

tsp.

baking powder

1/2

tsp.

salt

1/3

c

unsweetened applesauce

1

egg

1/4

c

agave nectar

1

tsp.

vanilla extract

1

c

canned pumpkin

1

tbsp.

unsweetened coconut flakes
I couldn't find oat flour when I went to Trader Joe's so I looked up what it was and made it myself! I took old-fashioned oats and ground them in the NutriBullet! This was my first time working with oat and almond flour and I wasn't sure how the recipe would turn out but I think the consistency of the bread is just like regular flour.
I added the dry ingredients in one bowl.
I added the wet ingredients in a different bowl along with coconut flakes for good measure! I mixed the two and added walnuts to the recipe and put it in the oven for 35 minutes.
I had to adjust the temperature since my oven runs hot as I needed to cook it a bit more but overall, it turned out great! The pumpkin makes the bread very moist. The chocolate pumpkin is a great combination! I wasn't sure they would go well together but it's a great pairing and the bread keeps you full with the IDEALLean Protein Powder. I had some bread with hot pumpkin tea and it was perfect!
Chocolate Coconut Breakfast Bars
I also tried the Chocolate Coconut Breakfast Bars!
INGREDIENTS
1/4

tsp.

salt

1

tsp.

vanilla extract

1/4

c

dark chocolate chips

1 1/2

c

old fashioned oats

1/2

c

unsweetened shredded coconut

2

scoops Chocolate Coconut IdealLean Protein

3/4

c

unsweetened almond milk

4

egg whites
I had all of the ingredients required already. I didn't add the chocolate chips as I didn't want it to be too sweet but I threw in some walnuts since I had them for the other recipe. I added extra coconut flakes, too.
I mixed the ingredients together and baked it. Super easy!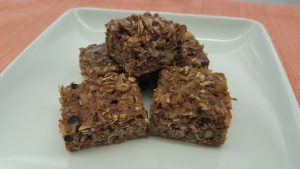 The bars were delicious! It's cereal on-the-go! I think you can add some pumpkin seeds or other seeds to it and it'd be great!
I had a few bars with my coffee one morning and it was really great to keep me full and keep me away from the sweet treats at work! Halloween time means everyone brings treats to work and I have worked hard to stay away!
National Chocolate Day with IDEAL Fit and IDEALLean Protein Powder has helped me have clean treats this week before Halloween when I'm usually tempted to have bad treats. The recipes are easy, clean and taste great! I may try the German Chocolate Pancakes next!
Your path, your pace, Tam