On Sunday, July 24, 2016, we ran in Orange County for our Dirt Divas and Dudes practice. It was hot, hot, hot!!!
We began at Quail Trail in Irvine. There was a nice climb right at the start.
But when you climb, you're treated to a nice view!
Only in the OC will you have beautiful, picturesque signs to describe the beauty of the area! Fancy!
We stopped to get water at the Nix Center.
You can get filtered water at the fountain! Fancy! Only in the OC, I say!
We went inside the Nix Center to check things out. It's a great place.
I learned about ticks!
We ran to Stagecoach Trail and toward Laguna Coast you can see the freeway! It's a cool juxtaposition of city life and nature.
Only in the OC are there posts with a number to call to get more information about the trail! It's like being at the museum! Fancy and only in the OC!
We ran into the Dirt Divas going back from the turn-around!
Go team!
I caught to my trail sisters at the turn-around point where we learned that our coach scared off a guy who was off trail, gathering brush. Oh no! There were so many fires this summer and it's just scary to think about a fire in the area. I saw rangers looking for him but they said everything was okay.
We loved this cool rock!
We climbed back out of Laguna Coast Wilderness and actually saw a suspicious looking guy, sitting on a branch. He was off trail again in dark clothing–he wasn't wearing hiking clothes. He looked off and my friends tried talking to him but he didn't respond. They tried getting a photo of him and a lockdown on his location but the GPS wasn't working too well.
We checked out was a waterfall!
On the way back, it was very hot and we had to stop to refill at the Nix Center. We informed the staff that we had seen a suspicious looking person who was off trail. They said that this person may be the same person who they've talked to on several occasions–he is not well and believes there are certain species of plants that do not belong there so he tries to remove them. Anyway, we had to keep on going as the heat wasn't getting any better.
I was super hot but had to keep pushing my teammates along. The great thing about running together is that you can be there for your teammates when they need a push and they're there for you when you need a push.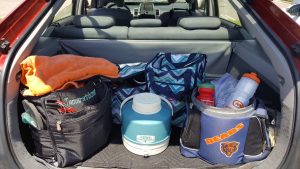 When we got to the car, I had cold drinks, cold towels and…
fruit waiting for us! Yay!
I stretched, cooled off and cleaned up with my Yuni Shower Sheets and No-Rinse Body Cleansing Foam. I learned about Yuni at IDEA World and their products are all-natural and help you clean up after a run. Perfect!
We picked up all of the ribbon the way back and Laura made herself a skirt! Lol!
Lastly, we dedicated our run to a runner we lost suddenly, Freddy. We will always remember to remember, friend.
Your path, your pace, Tam