I'm so proud to announce that I've been chosen as an ambassador for Balega! I've been wearing Balega socks for many years. I love the fit and comfort. I love the design and colors. When people ask me which socks I recommend, I proudly tell them about Balega, socks made in South Africa from amazing fibers that are US made.
I was excited to receive my welcome package with a lovely note!
It's cool to be a Balega Impi. Impi means warrior in Zulu. I'm a Balega Warrior!
I've been wearing the Hidden Comfort socks for years and have never had any problems. Read all about what makes Balega special here.
Now I get to try the other designs. I love the colors in the Enduro. They're lighter than the Hidden Comfort socks and have arch support, too.
The Second Skin Fit Ultralight are thin and like the other socks have a reinforced cushioned heel and toe for comfort and durability. There are mesh panels for ventilation, too. I think these socks would be great in the summer.
The Natural Fiber Performance Blister Resist socks are the perfect blend between nature and technology. They eliminate the risk of blisters. From the website: "The combination of mohair and Drynamix is ideal to keep feet cool and dry. The Drynamix pushes the moisture away from the skin and the mohair has the ability to hold moisture and still keep your feet warm in winter and cool in summer. The optimum environment for every runner's feet." Recently, I've gotten blisters from heat friction and am interested in trying these socks!
Birthday socks! So cool! I can't wait to sport these during my birthday month! It's not till January so maybe I'll have to think of another reason!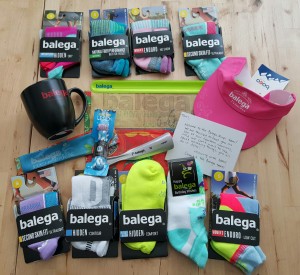 I got a really nice haul, including a visor made by Boco Gear and other products affiliated with Balega.
I especially love my Balega mug! Coffee and anything running related–what could be better?
I'm proud to represent a brand that I already loved and am happy to continue spreading the good word about Balega! Thank you, Balega, for this amazing opportunity!
Your path, your pace, Tam